CASE STUDY: Grocery Store T-Gate Multi-Sensor Monitoring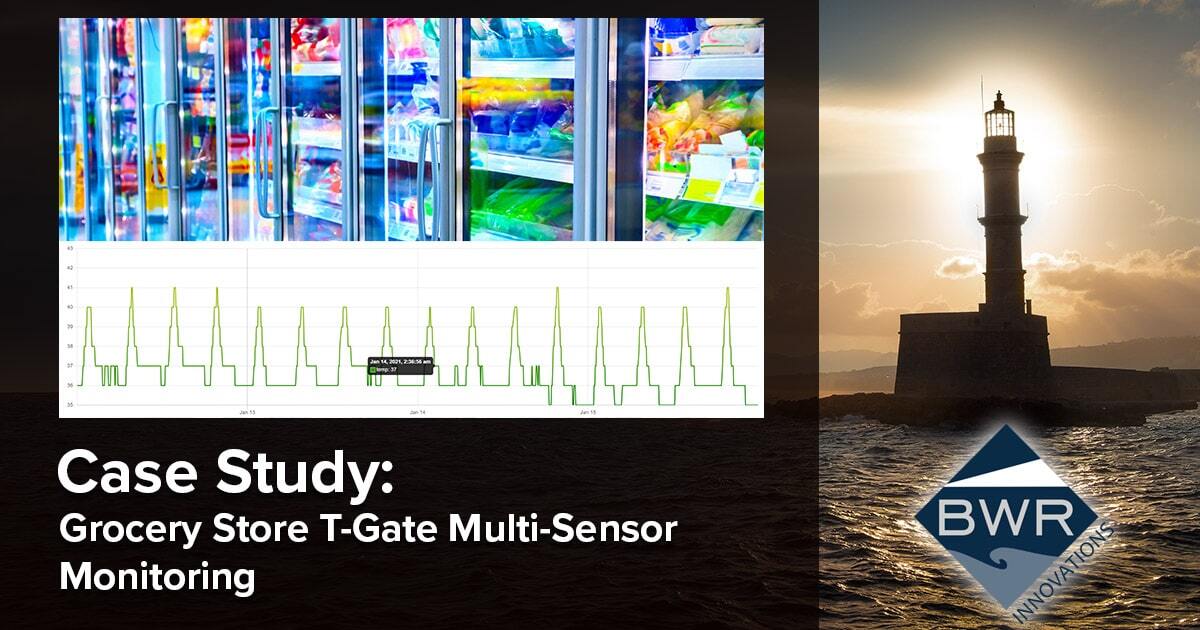 Customer Overview
Multi Store Grocery Chain, Fargo, North Dakota
Local, multi-store grocery store chain with multiple cooler/freezer units used in the store. These cooler/freezer units are in the Produce, Meat, Deli, Dairy, Frozen Goods, and Floral Departments. Walk-In Coolers and Walk-In Freezers are also located in the warehouse. All have temperature controls, many have temperature indicators, but no centralized monitoring or documentation capabilities available at the time.
The Problem: No Centralized Monitoring Capabilities in Legacy Equipment
The store manager wanted a centralized, WIRELESS monitoring of walk-in/reach-in freezers, reach-in refrigerators, refrigerated display cases, beer-cave, refrigerated floral case, and refrigerated meat and fish display cases. They wanted to connect the refrigeration equipment they already owned (legacy) without having to purchase new coolers/freezers. These units were located throughout the store footprint with walls, shelving, and other display cases with high potential to obstruct signals.
The Solution: iNsite T-Gate Multi-Sensor Monitoring
BWR Innovations recommended the iNsite T-Gate Multi-Sensor Monitoring System. The T-Gate is a secure, cloud-based, wireless monitoring and notification system saving the client time, money and provides peace of mind. The T-Gate Monitoring System allows the client to remotely monitor temperature, humidity, or other critical data from 5 to over 40 devices at one time.
The BWR Innovations Online Dashboard will measure, record and monitor the client's equipment. Their equipment outputs important information, and the T-Gate will help the client measure, record and monitor the data in real time, all accessible from a smartphone, tablet or computer! Historical data is also available to create reports as needed for state and local health departments. A low-cost subscription to connect the T-Gate to the on-line dashboard will provide you with alerts and notifications 24/7, 365 days a year via text/SMS or by email.
The Result: Centralized Monitoring for Less than 5 cents per Day
For an initial investment of $2,850, the client will be able to monitor 10 different coolers/freezers in the store from the BWR Innovations Dashboard. The store manager was very happy with the centralized monitoring capabilities of a single dashboard demonstrated to him, rather than having to force department managers to check each unit. The manager also appreciated the low cost; giving the store an opportunity to complete monitoring for less than 5 cents per day/sensor.
Want to get a centralized monitoring system for your walk-in coolers/freezers? Check out our iNsite ioT solutions for freezer and cooler monitoring or email Tom Wollin at tom.wollin@bwr-innovations.com.
Stay up to date on the latest at BWR Innovations