Lewis & Clark Development Group: NDOF disaster assistance loan program allows Fargo company to readjust to directly tackle COVID-19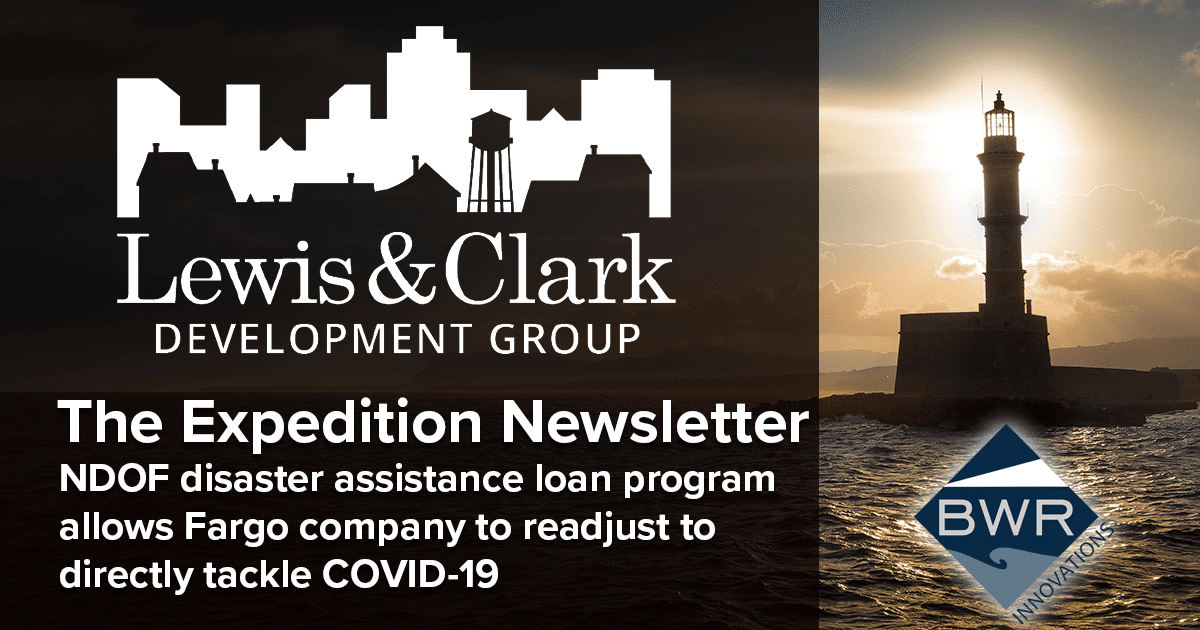 Published by Lewis & Clark Development Group, May 2020
BWR Innovations has used the program to recalibrate its products to kill Coronavirus and help reopen the country's economy
Back in March, the North Dakota Opportunity Fund (NDOF) Steering Committee created a disaster assistance loan program for small businesses located within the Fund's 39 consortium communities that have been directly impacted by the COVID-19 pandemic.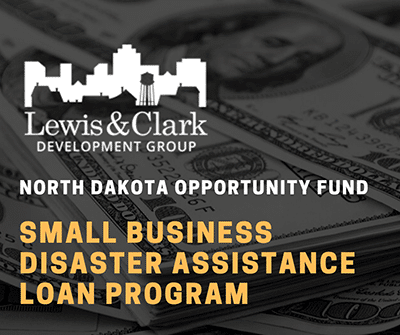 While the NDOF is typically used for construction, real estate, equipment purchases, working capital, and interim SBA 504 loans, the disaster assistance program can only be used for working capital.
The goal is to provide short-term bridge financing for small businesses while they await funding from the SBA, either through the Paycheck Protection Program (PPP) or the Economic Injury Disaster Loan (EIDL) assistance program.
Under the program, applicants must show they've been adversely affected by the pandemic and may apply for up to $50,000 in loans. They will pay zero percent (0%) interest and not make any payments for the first six months. After those six months, the loan will be four percent (4%) amortized for up to five years.
According to LCD Group Commercial Lending Director Matt Burthold, the NDOF loan committee recently approved new loans for four additional businesses in Bismarck, Linton, and Fargo. For these businesses, and the others that have received assistance during the last two months, the NDOF disaster assistance program is making a difference.
And, in the case of Fargo-based BWR Innovations, the NDOF assistance program's difference can be measured both in financing and in providing the company time to recalibrate and adjust its products to help reopen the nation's economy.
BWR INNOVATIONS
Founded in 2018, BWR Innovations' focus is to create innovative products using fuel cell technology and telemetry designs. BWR Innovations is bringing products to market for the food service, transportation, health care and hospitality industries. Research is also being done on the use of fuel cell systems for agricultural and commercial markets along with federal research programs.
According to Dr. Joel Jorgenson, BWR Innovations CEO and President, the company's activities were halted due to widespread "stay-at-home" orders across the United States.
BWR Innovations' 2020 sales forecast was largely dependent on the sale of telemetry monitoring systems and portable fuel cell generators. The pandemic stopped sales opportunities, while putting other pilot projects on indefinite hold. Trade shows and industry conferences were also cancelled where BWR was scheduled to demonstrate their products.
One such product was the use of fuel cell technology for bed-bug eradication in the hotel industry. The pandemic's shutdown allowed BWR to develop a new purpose for the product, one that is tackling the COVID-19 challenge head on.
"Why are low-interest loans so important? Because they support American innovation and ingenuity, which has constantly contributed to better country and world," say Jorgenson. "And in our case, we are using the loan for that very purpose."
Jorgenson said the loan provided BWR Innovations with a lifeline and time to modify their fuel cell generator for use in hotels, hospital rooms, nursing care facilities, and other spaces.
KILLING CORONAVIRUS
As people slowly begin to travel again, the question of safety is uppermost in their minds. BWR Innovations is addressing their concerns with their fuel cell generator intended to 'Decontaminate Against Infections/Insects, Specifically for You.'
The letters of the this promise spell the word DAISY, which is the trademarked term BWR has created to describe the process of using a fuel cell generator to use heat and ultraviolet light to rid a space from viruses, bacteria, molds, or pests.
The DAISY process is clean, safe, cost-effective, and quick. Hotel rooms can be cleaned in approximately two hours, eliminating 99.99% of the viruses. The DAISY process will clean a room for pests, influenza, coronaviruses, and other threats that a guest may encounter.
"We want guests to be safe and feel comfortable," says Jorgenson. "Our intent is for travelers to verify when they check-in that their room has been DAISY-ed, and they can be assured that their room has the highest level of cleanliness without any chemical residue or lingering odors."
Unlike chemicals, the DAISY process completely eradicates pests and pathogens. Heat and ultraviolet light has been proven to kill pests and inactivate microorganisms, without any chance for a chance for chemical resistance. BWR Innovations has sensors that verify that the heat has been reached in the room, and guests will have copies of test results proving that the room has been treated to the best cleanliness standards.
In the midst of the pandemic, and in advance of next season's flu season, BWR Innovation is rolling out their fuel cell generators that are DAISY- compliant. Select hotel chains are lining up for testing and will be able to offer DAISY-fresh rooms for their guests later this summer.
ASSISTANCE PROGRAM IS WORKING EXACTLY AS INTENDED
"Being a Midwest company is a tremendous advantage for BWR Innovations, compared to our counterparts across the country," adds Jorgenson. "We are fortunate to be a team of great, motivated, dedicated people driving hard towards success, both inside BWR and with great partners like Lewis and Clark Development by our side."
LCD Group's Matt Burthold said the NDOF disaster assistance program is serving exactly as intended.
"The goal of program all along has been to provide the short-term bridge financing for small businesses to get through this crisis. We can see the difference this financing has made for BWR Innovations," says Burthold. "Because Lewis and Clark Development Group was able to meet BWR's immediate needs, the company was able to reposition itself to be a leader in helping our economy recover from this crisis."
Click here to download a PDF with complete information on the NDOF Disaster Loan Program.
To learn more about the North Dakota Opportunity Fund, visit LCD Group's website or contact Burthold at (701) 667-7601 or at matt@lcdgroup.org.
Information about BWR Innovations may be found on their website. For inquiries about their DAISY-fresh equipment, feel free to contact sales@bwr-innovations.com.
Stay up to date on the latest at BWR Innovations