Get HVAC Efficiency & Monitor Delta T with BWR Innovations' iNsite ioT TDX-Duo!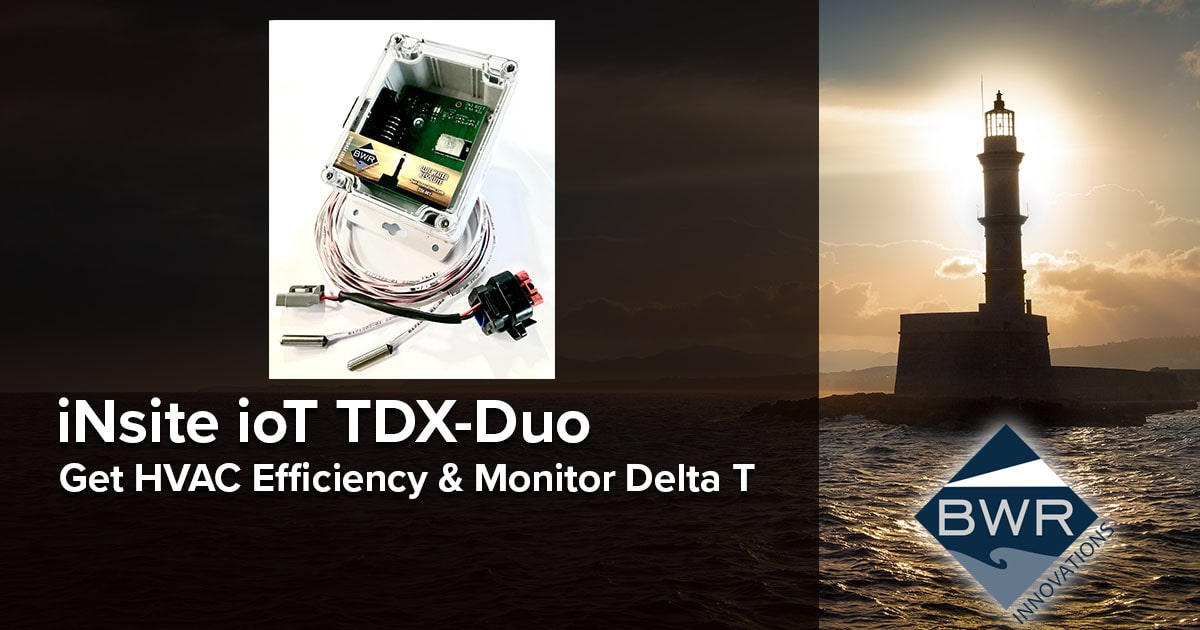 Is there a metric available to proactively diagnose and problem solve your HVAC System?
And how can you easily and economically get that information from the equipment/system you already own without having to add a complicated or costly upgrade?
The iNsite ioT TDX-Duo monitoring system from BWR Innovations is that solution! The iNsite TDX-Duo is a multi-patent pending, cloud based, wireless monitoring and notification system that connects in a matter of minutes to equipment you already own, providing you with information on your HVAC System's performance and operation. This information is available on an easy-to-use dashboard that is available to you on your smartphone, tablet, or computer. And you can have it for only pennies a day!
As we like to say, CONNECTING what you have to what you need!
What Metric does iNsite TDX-Duo Help You Measure?
So, let's get back to finding that metric and how the iNsite TDX-Duo can help you monitor that information. The difference between your HVAC unit's return air temperature and supply air temperature, or Delta T, is one of the most commonly used measurements in the HVAC industry – and for good reason.
The ability to monitor Delta T over time with the iNsite TDX-Duo can clue you in on less-than-optimal system performance, unnecessary energy or fuel usage, or impending equipment failure.
This information can help you address these issues proactively instead of reactively – iNsite TDX-Duo helps you find Delta T.
How do I Find My Delta T?
Calculating the Delta T is simple. The Dashboard for the TDX-Duo provides you with historical data on the temperatures read in your HVAC System's supply air and return air. All you have to do is go to the Dashboard and subtract the return air temperature from the supply air temperature. The difference between the two is known as Delta T. On the heating side, the ideal Delta T range varies by system, so check the data plate on the furnace to see the temperature rise minimum and maximum (it's usually a 30-degree Fahrenheit spread). On the cooling side, the ideal Delta T range varies depending on who you ask, but a good rule of thumb is a difference of 16 to 22 degrees Fahrenheit.
How Do I Know if I Have a Problem with my HVAC Unit?
So, what can the TDX-Duo and the Dashboard show you? Generally speaking, if the TDX-Duo Dashboard indicates that the Delta T is high, it tends to indicate poor airflow. If Delta T is low, it can indicate poor system performance or capacity. From the TDX-Duo Dashboard, the homeowner can have alerts for abnormal measurements sent to them by call, text, or email when your HVAC unit is operating outside your set appropriate fault limits.
Is the iNsite TDX-Duo Easy to Install?
The iNsite TDX-Duo comes with two temperature sensors, one that can be installed in your supply air and one that can be installed in your return air duct. Once that is accomplished the programming of the TDX-Duo can be completed in less than ten (10) minutes.
Why You Should Monitor Delta T Over Time
Seeing an abnormal Delta T value can help you address an immediate problem, but monitoring Delta T over time is how you can get in front of problems before they happen. The iNsite ioT TDX-Duo mentioned above, has a history log feature where your supply air and return air temperatures are tracked over time, making it easy to see the progression.
Be Proactive in Monitoring Delta T in your HVAC Equipment
And as mentioned earlier, you can also program the TDX-Duo Dashboard to alert the homeowner by phone, text, or email to call and schedule a service appointment/call when Delta T falls outside the limits you set during install. It's one more way you can provide proactive service and help customers keep their equipment up and running.
Find out how you can use BWR Innovation's iNsite ioT TDX-Duo Temperature Monitoring Systems and the Dashboard Service to monitor your equipment by checking out our IoT monitoring solutions or by emailing BWR Innovations at info@bwr-innovations.com. 
Stay up to date on the latest at BWR Innovations