CASE STUDY: Meat Market Temperature Monitoring Saves $2k in Beef Halves for Our Processor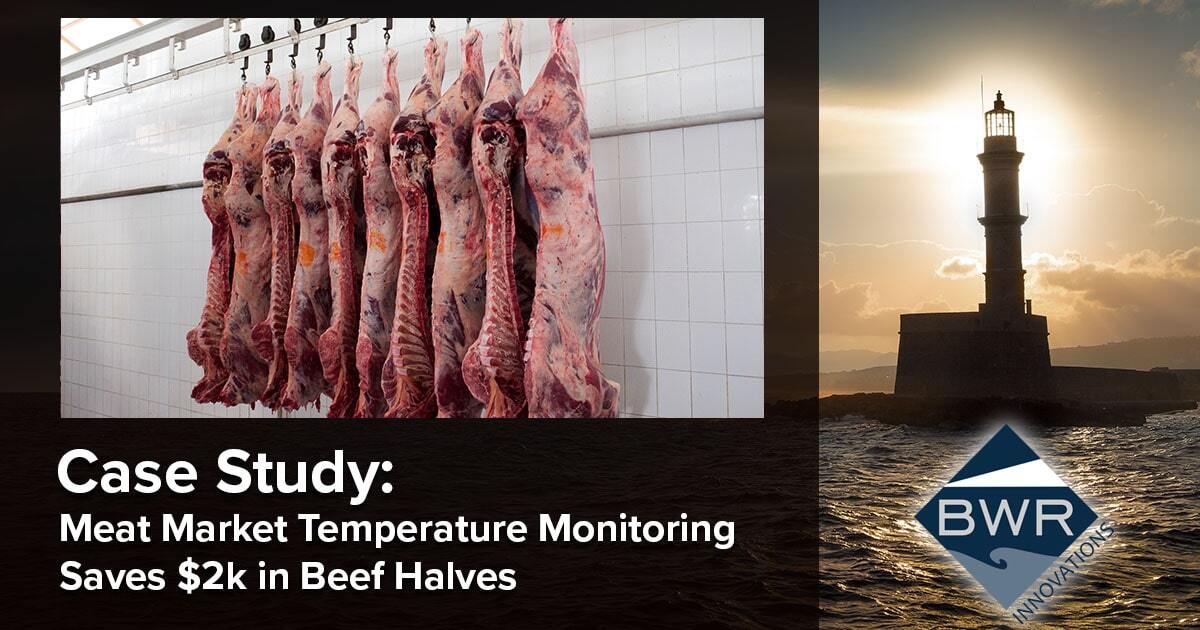 Customer Overview
Meat Market/Custom Processing Facility, West Central Minnesota
Independently owned meat market/custom processing facility with a walk-in cooler unit. This unit stores full hanging beef halves and processed cuts of beef. The walk-in cooler had a temperature control and temperature indicator, but no ability for remote temperature monitoring or documentation capabilities available at the time.
The Problem: No Way to Monitor on Weekends & Vacation
The meat market owner wanted WIRELESS temperature monitoring and the ability to monitor his walk-in cooler on a smartphone or computer while away from the facility. This could be on weekends, vacations, etc. The owner also wanted to monitor refrigeration equipment he already owned (legacy) without having to purchase a new walk-in cooler. The walk-in cooler was located inside of a metal walled building in a rural setting – making it both costly and difficult to install a hard-wire monitoring system.
The Solution: iNsite TDX Temperature Monitoring
BWR Innovations recommended the iNsite TDX Temperature Monitoring System. The TDX is a secure, cloud based, wireless monitoring and notification system designed to save time, money and provide peace of mind. The TDX Temperature Monitoring System allows the client to monitor temperature and other critical data from any remote location.
The BWR Innovations Online Dashboard measures, records and monitors the owner's walk-in cooler. The information is provided in real-time, accessible from a smartphone, tablet or computer. Historical data is also available to create reports as needed for state and local health departments. This is paired with a low-cost subscription to connect the TDX to the on-line dashboard. For less than 5 cents per day, the owner can receive alerts and notifications 24/7, 365 days a year via text/SMS or by email.
The Result: $2k Beef Saved
The meat market owner invested $420 into the TDX monitoring system and gained access to the BWR Innovations Dashboard. In the short time the cooler has been monitored, the TDX has already alerted him of a cooler shut-down incident. He got a message on his smartphone while he was away, and was able to contact a refrigeration technician to fix the problem right away. This alert saved four (4) hanging beef halves that were hanging in the walk-in cooler, worth over $2,000!
Want to get remote temperature monitoring for your walk-in refrigerator? Check out our TDX-Duo machine monitoring solution or email Tom Wollin at tom.wollin@bwr-innovations.com. 
Stay up to date on the latest at BWR Innovations