Whitepaper: Inactivate COVID-19 – Thermal Energy & UV Light Sanitation Solution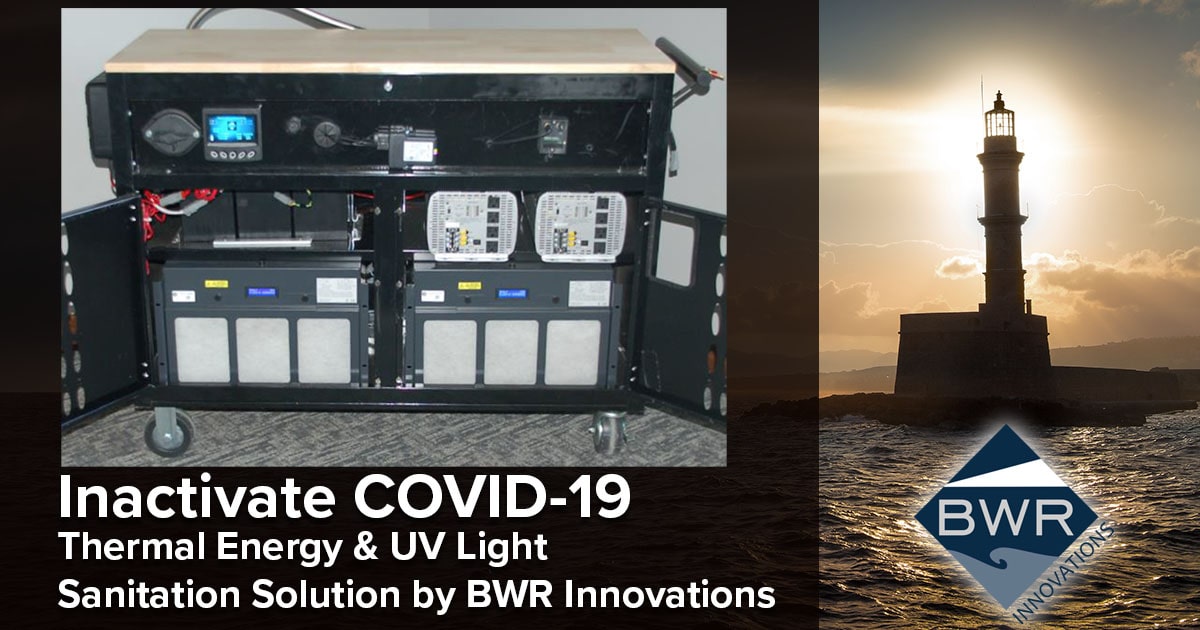 COVID-19 is a highly contagious SARs-CoV-2 coronavirus that is rapidly spreading through both our most vulnerable and healthy populations. SARs-CoV-2 challenges existing healthcare sanitization protocols for medical equipment, patient rooms, and assisted living facilities. The rapid spread of COVID-19 is also causing significant stress on our national supply and availability of PPE for our healthcare workers.
After the SARs outbreak of 2003, medical research validated that 56°C (132.8°F) of thermal energy will inactivate SARs-CoV-2 viruses. BWR Innovations has developed a novel industrial fuel cell electrical generator/heater solution producing 50°C (122°F) thermal energy to sanitize hotel bed bug infestations. This solution can be quickly modified to produce the higher energy thermal loads required to completely sanitize COVID-19 contaminated medical equipment, patient rooms, and PPE's.
BWR's Fuel Cell Thermal Sanitizer is designed to increase the level of sanitization of COVID-19 contaminated surfaces by applying dry sterilant thermal energy (60°C/140°F) to all of the room surfaces, providing more uniform coverage on equipment and surfaces throughout the room, decreasing the rate of infection. The use of a dedicated sanitation room can also relieve the stress on the PPE supply for our health care workers by facilitating the sanitation and reuse of previously contaminated PPE's.
To read more, download the whitepaper.
Learn about our new SFC 110 Fuel Cell Thermal Sanitizer
Stay up to date on the latest at BWR Innovations
Posted in
Fuel Cell Development
Tags
cdc
,
covid-19
,
dod
,
element 1 corp
,
fda
,
fema
,
fuel cell technology
,
hhs
,
hospitals
,
medical solution
,
mosebach manufacturing company
,
sanitation
,
thermal energy
,
uv light