CASE STUDY: School Cafeteria Freezer & Cooler Monitoring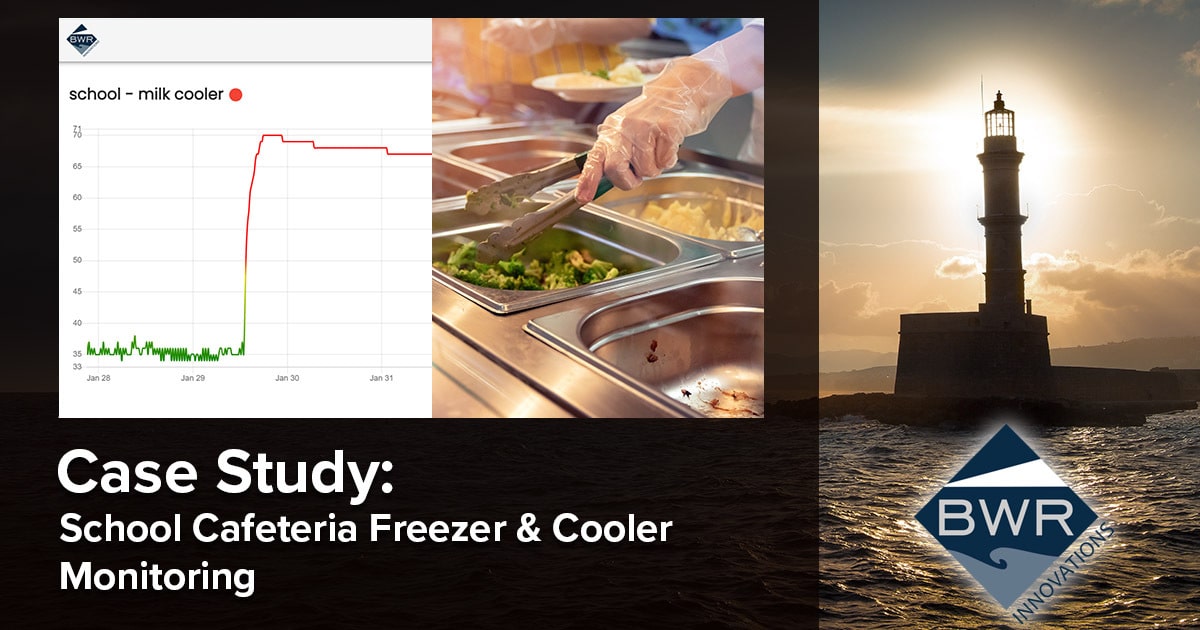 Customer Overview:
School Food Service, North Dakota
Food Service in a school with numerous cooler/freezer units used in the food service area. The school has an assortment of walk-in coolers/freezers, reach-in coolers, and portable milk coolers. All have temperature controls, many have temperature indicators, but no centralized monitoring or documentation capabilities available at the present time.
The Problem:
The facilities manager and food preparation staff wanted centralized, WIRELESS monitoring of multiple coolers. They also wanted a monitoring system to keep them updated of the coolers/freezers operation, and to provide notification if any of these units were operating outside of safe temperatures for the items/food stored in them.
They also wanted to connect the refrigeration equipment they already own, without having to purchase new coolers/freezers. These units were located in the lunchroom/kitchen area with numerous concrete block walls, tile, stainless steel appliances and shelving that could potentially obstruct signals.
The Solution:
BWR Innovations recommended the iNsite T-Gate Multi Sensor Monitoring System. The T-Gate is a secure, cloud based, wireless monitoring and notification system saving the client time, money and providing peace of mind! The T-Gate Monitoring System allows the client to remotely monitor temperature, humidity, or other critical data from 5 to over 40 devices at one time.
The BWR Innovations Online Dashboard will measure, record and monitor the client's equipment. Their equipment outputs important information, and the T-Gate will help the client measure, record and monitor the data in real time, all accessible from a smartphone, tablet or computer!
Historical data is also available to create reports as needed for state and local health departments. A low cost subscription to connect the T-Gate to the online dashboard will provide you with alerts and notifications 24/7, 365 days a year via text/SMS or email.
The Result:
For an initial investment as low as $2,095 per iNsite T-Gate Package (1 T-Gate Connect and 5 Wireless Sensors), the client will be able to monitor from the BWR Innovations Dashboard their different coolers/freezers within their facility. The facilities manager and food staff was very happy with being able to review the equipment from one dashboard rather than having to get manually monitor each unit. The manager was also pleased with the low cost. To monitor the coolers/freezers costs less than 5 cents per day/sensor!
Get remote temperature monitoring for your school's walk-in refrigerator/freezers. Visit our iNsite monitoring solutions page or email Tom Wollin at tom.wollin@bwr-innovations.com.
Stay up to date on the latest at BWR Innovations