How to Monitor the Storage and Handling of Vaccines for Animal Hospitals and Clinics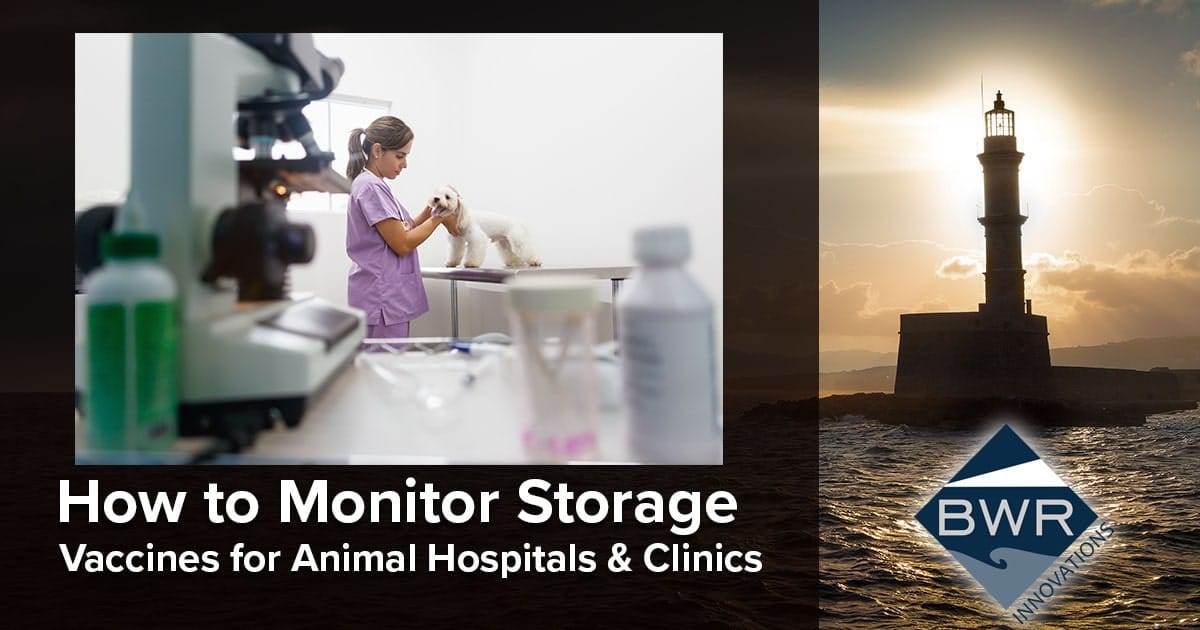 Pet and Livestock owners want their animals to receive the best treatment possible. And that includes making sure they receive the proper vaccinations as the animal develops or the correct medications when the animal becomes ill.
Animal vaccines and medications are crucial tools for animal health as well as public health. They are a cost-effective method to prevent animal disease, enhance the efficiency of growth, and reduce or prevent transmission. The proper usage and storage are essential to achieve maximum vaccine and medication safety and efficiency.
The next question is this, are all these medications and vaccines being stored correctly? Will the medication/vaccines provide your animal with the proper level of protection or treatments? If they are stored and monitored, they will be.
How Can Animal Clinic Staff Monitor Costly Medications?
So how can the staff at an animal clinic actively monitor and log the temperatures of all their costly medications easily and efficiently without having to purchase all new coolers or refrigeration units? While exposure to any inappropriate conditions can affect the potency of refrigerated vaccines, a single exposure to freezing temperatures will destroy some vaccines as well. So, how can you be sure that the potency of the vaccines and medications they are using will prevent and treat the animals placed in their care?
You can accomplish this with BWR-Innovations' patent-pending iNsite ioT TDX and TDX-Duo temperature monitoring products combined with BWR's Dashboard Service. The iNsite TDX and the TDX-Duo are the perfect solutions providing a secure cloud-based, wireless temperature monitoring and notification system that saves you time and money and also gives you peace of mind.
CDC Recommendations for Animal Vaccine Storage
The CDC recommends that an accurate temperature history that reflects actual vaccine temperatures is critical for protecting your vaccines. Every vaccine storage unit must have a temperature monitoring device, and investing in reliable devices is less expensive than replacing vaccines wasted due to inaccurate temperature readings.
CDC also recommends using continuous monitoring and recording digital data loggers (DDL) like the iNsite TDX and TDX-Duo.
The CDC also recommends setting a minimum recording interval of at least every 30 min (TDX and TDX-Duo will record every seven minutes). Unlike a simple minimum/maximum thermometer, which only shows the warmest and coldest temperatures reached in a unit, continuous monitoring and recording by the TDX and TDX-Duo provide detailed information on all temperatures recorded at preset intervals.
Temperature Monitoring for Stored Animal Vaccines
The TDX and TDX-Duo provide accurate storage unit temperature information, including details on how long a refrigerator/cooler and the vaccines/medications have been outside the recommended temperature range (referred to as a temperature excursion).
Gathering and recording temperatures is only one part of the equation. A good vaccine temperature monitoring system should also alert you when any of your temperatures fall out of range and help avoid costly vaccine/medication loss. You should be able to view your entire inventory from anywhere, at any time, be able to take corrective actions on the spot, and print out summary/historical data in the form of charts and graphs for your records.
The TDX and TDX-Duo provide the ability to monitor temperature data and downloading this information to the BWR Dashboard. You can then use your smartphone, tablet, or computer to receive alerts and notifications as well as view the information that is documented on the dashboard.
And the TDX and TDX-Duo work with coolers/refrigerators that you already own!
In short, you have the capability of… "CONNECTING what you have to get what you want."
The BWR-Innovations' patent-pending iNsite ioT TDX and TDX-Duo temperature monitoring products combined with BWR's Dashboard Service provides you with this capability.
How a Veterinarian Clinic Would Use the iNsite TDX for Vaccine Storage
Here is an application/example of what we mean on how a veterinarian clinic would use the iNsite ioT TDX and TDX-Duo:
A Veterinarian Clinic has their refrigeration/HVAC contractor install an iNsite ioT TDX or TDX-Duo with BWR's Dashboard Service in their refrigerator/cooler that stores their vaccines/medications and monitors the temperatures in the refrigerator, with real-time alerts. This can be through a smartphone, tablet, or computer.
One day, the veterinarian receives an alert on their smartphone that the temperature in their vaccine/medication refrigeration unit had exceeded the pre-set temperature threshold. The veterinarian calls one of the staff at the clinic to investigate.
After a few minutes of basic troubleshooting, it was determined that the door to the refrigeration unit had not closed all the way when returning medication that had been used earlier in the evening.
Before the BWR's iNsite ioT TDX and Dashboard Service, the veterinarian would have likely received a call only after the staff had noticed that the items in the refrigeration unit felt warm, which would have put the entire inventory safety at risk.
BWR Innovation's iNsite ioT TDX temperature monitoring system's alert saved several hundred to thousands of dollars in vaccines and medications. Multiply that one alert across several locations, and across multiple pieces of equipment, it becomes quite clear how those savings add up. Not to mention the peace of mind that comes from full remote monitoring of every piece of equipment, 24/7/365.
iNsite ioT TDX and TDX-Duo Temperature Monitoring Systems will have an ongoing cost of less than 5 cents/day for monitoring fees. A very small cost for the value and peace of mind these systems provide.
Are you interested in finding out more on how you can use BWR Innovations' iNsite ioT TDX and TDX-Duo Temperature Monitoring Systems and the Dashboard Service to monitor your clinic? Check out our monitoring solutions.
Stay up to date on the latest at BWR Innovations