Food Storage Temperature Monitoring System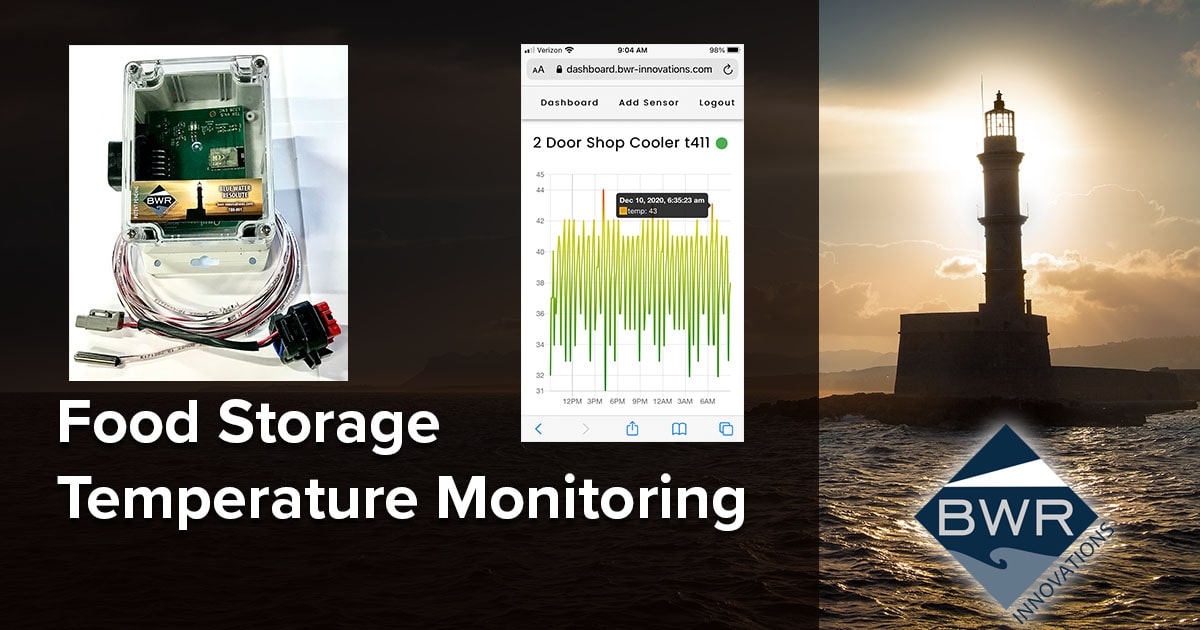 Food storage temperature monitoring is an important issue that is easily overlooked – until a problem arrives. Then it becomes a costly issue for you and your business. Not only with the loss of product, but in reputation as well.
A reliable and effective temperature monitoring system is vital to any food service department. Some of the most important devices to monitor for temperature include:
walk-in coolers/freezers
reach-in refrigerators/freezers
milk/ice cream/yogurt coolers/dispensers
Historical food temperature data may also need to be recorded and monitored during storage as well.
24/4 Wireless Temperature Monitoring of Your Entire Operation from your Phone or Computer
Temperature recording is only one part of the equation. A good temperature monitoring system should also alert you when temperatures fall outside of your pre-determined range, thus helping to avoid costly product loss. You should be able to view your entire operation from anywhere, at any time, be able to take corrective actions on the spot, and print out summary/historical data in the form of charts and graphs.
And it should work with equipment that you already own!
In short, you need the capability of BWR-Innovation's patent-pending iNsite ioT TDX and TDX-Duo temperature monitoring products, combined with BWR's Dashboard Service.
"CONNECTING what you have, to get what you want."
How iNsite ioT TDX and TDX-Duo Food Storage Temperature Monitoring Help the Convenience Store Owners Avoid Product Spoil
A convenience store client has their refrigeration/HVAC contractor install an iNsite ioT TDX with BWR's Dashboard Service and starts monitoring the temperatures in their walk-in cooler and freezers, with real-time alerts. This can be through a smartphone, tablet, or computer.
Imagine the client receives an alert on their smartphone that the temperature in their walk-in freezer had exceeded the pre-set temperature threshold. The client calls the store manager to investigate.
After a few minutes of basic troubleshooting, the store manager discovered the breaker had been switched off due to an employee performing inventory earlier in the day, and had never been switched back on.
Without BWR's iNsite ioT TDX and Dashboard Service, the client would have likely received a call only after the store manager or store employees noticed that the freezer felt warm, which would have put the freezer's entire product safety at risk. The c-store's refrigeration/HVAC contractor would have had to dispatch their service tech to investigate the issue, having to drive 50 miles (or more) to get on site.
Saving Hours of Service Tech Time & Cost
BWR Innovation's iNsite ioT TDX temperature monitoring system's alert will save at least 2-3 hours of service tech time with a simple fix, saving the client at minimum a few hundred dollars of internal costs. Multiply that one alert across several locations, and across multiple pieces of crucial equipment (walk-in freezers/coolers, reach-in refrigerators/coolers, etc.), and these savings add up. Not to mention the peace of mind that comes from full remote monitoring of every piece of equipment, 24/7/365.
iNsite ioT TDX and TDX-Duo Temperature Monitoring Systems will have an ongoing cost of less than 5 cents/day for monitoring fees. A very small cost for the value and peace of mind these systems provide.
Find out how you can use BWR Innovation's iNsite ioT TDX and TDX-Duo Temperature Monitoring Systems and the Dashboard Service to monitor your equipment by checking out our iOt monitoring solutions or by emailing Tom Wollin at tom.wollin@bwr-innovations.com.
Stay up to date on the latest at BWR Innovations